If you're planning an event that needs audio visual support, you should hire a production company as soon as possible to save yourself time, effort, money, and lead to a more flawless execution of your event.
At MAC Productions, we are not an A/V company, but a full-service production company. We work as an extension of your team. By hiring MAC Productions, we can solve problem areas on the front end, preventing issues from arising down the line.
So why is that?
Your provided venue layout could be missing something

Hire
If you're booking an event space, you will probably get a basic layout provided by the venue reflecting the maximum seating for the space. At MAC Productions we do a full architectural review of your space before planning the layout of your event.
Chances are the provided venue layout does not consider the amount of space required for production equipment. Have safety factors like fire egresses, cables paths, or weight capacities been properly mapped out?
Have architectural obstructions been considered? Structural poles, low-hanging chandeliers, and ceiling height can have a major impact on where technology elements can be placed. This can create a negative effect on the performance of equipment and set designs – not to mention sightlines to your stage, and ultimately your message.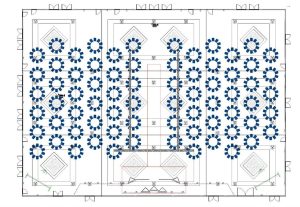 If you're booking an event space, you will probably get a basic layout provided by the venue reflecting the maximum seating for the space. At MAC Productions we use AutoCAD technology to ensure your setup is correct.
If you start planning your layout without an architectural review, you may have to adjust the scope of your technology or audience size at an undesirable time in the process.
Recently a client had us review a hotel diagram and we noticed that something did not look right. The hotel was using cocktail tables for seating 7 people. When we put the room into AutoCAD the total seating for the room was half what the hotel had said it was.
We can do a site visit that uncovers overlooked venue details
We all know that when booking a conference there are more areas of concern than just the room the audience will be in. Site visits can often uncover overlooked venue details.
At MAC Productions, we check for the following things:
Loading dock: Is there one? If there is not, a truck with a lift gate or forklift may be required.
Freight elevator: Is the freight elevator big enough to fit larger equipment to get into the room? If we know the size, we can consider this when selecting equipment.
Power access: Where is the power? While we do bring power distribution, it still needs to come off a main source. We can determine if there is enough available amperage in the building and if cable runs will be excessive.
Stage location: We can help find the perfect spot for your stage. The stage location for your next event should be based on rigging points that allow us to fly stage lighting, projectors, screens, and audio equipment.
Any issues involving these venue details can be overcome, but it is a lot faster and cost-effective to plan for it ahead of time.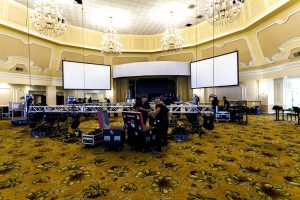 Nailing your event theme takes time
At MAC Productions we have, audio, video, lighting, and streaming specialists with the finest prediction and rendering software on the market. But planning your custom event takes time. Gear is common, but a talented team of people to help review and produce your show is harder to find.
You need a production company – not just an AV rental.
That being said, MAC has a variety of high-powered lighting units, flexible video systems all the way down to what microphone looks best with a white suit (which we really don't recommend on stage, but that's another post).
At MAC, our team members think of everything right from the beginning – from matching stage elements and lighting colors to your existing marketing material to choosing the perfect walk-on song for your presenters.
Hire
At MAC Productions, we do LIVE better! We specialize in producing live corporate events by providing our clients with productions that are seamlessly integrated into your live event.
Contact us today  to make your next live event your best one yet!
---
Want more advice from MAC Productions? Follow us!