What is one of the first things that catches your eye when attending a live event? Given the very visual nature of our society, it's likely how things look. Lighting, or more specifically color, has a significant impact on many aspects of live events.   
At MAC Productions, our experts use color to transform a room and create spaces where higher engagement, entertainment, emotions, and, most importantly, impact/retention are present.  
From the hues of the chosen colors to the saturation, pattern and angle of each light in use, certain elements should always be top of mind when working with your production partner to bring your vision to life.  
Know Your Audience's Lighting Needs Based on Your Goals
Purpose is the driving force behind all effective communication. Like tone of voice, the colors you select when working with an event planner should be reflective of the goals you wish to achieve at your live event.  
However, knowing your audience is key to successful color implementation. Are you hosting an internal meeting where the goal is simply to inform? That color palette should be different from one where you're trying to have people actively engaged and participating in the conversation.  
For example, use less saturated colors when trying to inform the audience and assist with information retention at your production. If you're trying to wow the audience, lean into more saturated and bold colors.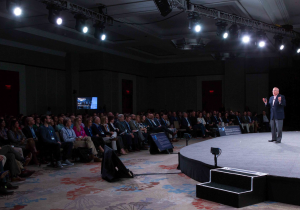 At MAC Productions, our expert Lighting Designers have three charts handy that discuss color psychology, the theory behind each and a thesaurus of shades to ensure they are familiar with aspects on a particular spectrum.
All of these things help us know which is appropriate for the purpose of your live event and what message you are looking to "illuminate" for your audience.  
For example, knowing the color temperature range (Kelvin) of your lighting helps determine whether your event will feel cozy and inviting or energetic. This also affects the type of lights used. You don't want to use scenic lighting when task lighting will provide the highlighting effect desired.  
"Mood lighting" isn't just a quirky throwaway term people use haphazardly – it's a real consideration that should be accounted for in selecting your event's color palette. Don't confuse this with altering your brand's colors. A good lighting partner will examine the setup and determine how to best incorporate them and not at the expense of the event's effectiveness.  
Heed the Impact of Video and Environmental Factors
If you're using video at a live event, whether it be for streaming or simply in your presentation, it will impact the colors used in your lighting. Skin tones, clothing hues and other accouterments present on stage can result in producing people that look incredibly pasty, washed out or can give the appearance of floating heads on your live stream. 
Additionally, ceiling height can have a dramatic impact on your colors as well. Lower ceilings force light closer to a speaker, which can potentially flood their vision. 
If you haven't had a chance to watch the recently released Denzel Washington and Frances McDormand-led adaptation of The Tragedy of Macbeth, you should if for no other reason than to see the beautiful cinematography within.
In the movie, the production team offsets the dominant black and white colors by operating within spaces of grey and using lighting to highlight things like texture and shadows. 
A good lighting partner will have the know-how to adjust projection angles, lighting types and shades to produce a similarly well-illuminated event, Academy Award nominations notwithstanding. 
Avoid Red Flags to Reach Color Goals
One thing that's important to keep in mind is that just because an event looks good doesn't mean it's a good event. At MAC Productions, there's only one metric that matters to us: How successful was our production design in accomplishing your event goals?  
If a partner is more worried about fitting your event into their existing models versus crafting a plan designed to meet your needs, that's a huge red flag. We like to keep our gear needs as minimal as possible, but that doesn't take precedence over producing the event our client wants. 
A good partner has good working relationships with those that can provide the equipment needed; no two events are the same, so why should you expect their tech needs and design to be? 
Keep these things in mind and your next event should shine – or be as muted as necessary – to achieve your goals. 
---
Want more advice from MAC Productions? Follow us!
Ready to have us on your team? Contact us today.