With live events back in full swing, more multi-day events are coming up for meeting planners across the industry. When planning a multi-day corporate event, your largest sessions will take place on the same stage over multiple days and if your attendees are with you for the duration, you need to keep attendees engaged with your presenters and speakers.
One way to do that is to mix up your stage elements, but with rising inflation and tight budgets, you don't have to do a complete deconstruction of your main stage to keep things interesting.
In this blog series, the MAC Productions team shares tips and tricks for keeping an efficient budget when you're planning your next event – from handling entertainers to managing audio-visual rentals effectively.
In this edition, we're focusing on ways to keep things on stage fresh for your audience without breaking the bank.
Embrace the rainbow
One way to keep your stage looking fresh is to change the color of your lighting. Color changing is a cost-effective and simple way to do scenic design changes during a multi-day event or even change throughout the show, either way, your stage will become something essential to your meeting
In previous blogs, we've broken down how color and lighting can make an impact on your audience. Check out those tips to find ways to switch things up.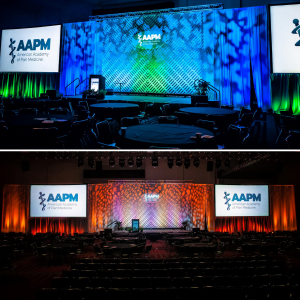 When planning your event, pick out two to three color schemes that fit your production – leverage brand colors or hues that match your event theme. Then, over the course of your event, change up the color schemes.
We suggest using less saturated colors when trying to inform the audience and assist with information retention at your production. If you're trying to wow the audience, lean into more saturated and bold colors.
Switch it up
If your color pallet isn't something you can change, another way to embrace a cost-effective scenic design is to reorient your stage pieces.
This can be as easy as adding different pieces of furniture or rearranging things on stage throughout the week. Couches and armchairs can be leveraged for panelists or a podium for single presenters. Plants (either real or fake) and other props can also be incorporated into the set design to change things up.
One solution that MAC Productions has embraced for our clients has a funny name but packs a big punch – Fettuccini Panels.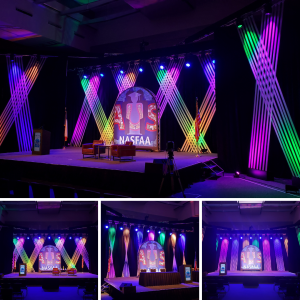 Fettuccini Panels are an item that we recently implemented at an event for our client NASFAA. These add a bright element that can be lit and moved in numerous ways over multiple days.
These strips of material are lit from top and bottom. In addition to adding a great textural element to your stage, they can be angled, twisted and manipulated in a number of ways to mix up your design.
To really switch up a stage design over a multi-day event, the panels can be combined with new colors for each day. Keep it simple with straight lines and your brand colors for educational sessions or twist them up and add a bold and elegant pallet for your awards ceremony.
Ready to embrace Fettuccini Panels and find new ways to make the most of your production budget? Contact MAC Productions at (800) 347-2902 or contact us here. 

---
Want more advice from MAC Productions? Follow us!
Ready to have us on your team? Contact us today.