What do crossword puzzles, love and event management all have in common? Well, nothing, honestly – unless you're talking about MAC Productions Event Manager Jeremy Mobley.
Jeremy, who is set to celebrate his 23rd year with MAC Productions in Nov. 2022, originally had very different plans for his career path. In 1999, he decided to take a break from his studies at the University of Kentucky as a business major to work as a bookbinder.
So how did his career at MAC begin, you ask? Family.
"My aunt took a job with MAC as a secretary and in turn, her husband started doing stuff for MAC on the side when they needed extra help," recalls Mobley. "About two years later, they said 'We definitely need you. Come up and we'll have a short interview, but you're hired.'"
He hasn't looked back since.
Remembering that his first job with the MAC team was simply rolling up XLR cable for microphones, Jeremy spent plenty of time learning the proverbial tools of the trade. That led to him eventually becoming an A/V tech and later working on traveling shows for the organization, helping wherever he could.
Now, as an event manager, Jeremy – who by his own admission, can't sit still for too long – has plenty to keep him busy once he arrives on site. From the minute a client contacts him, he does a multitude of things to ensure an event's success. This includes drawing up floor plans, determining what will and will not work in a space, ensuring needed equipment is in MAC's system and making sure everyone is aware of the overall production schedule. In addition, he's responsible for things like power, rigging, transporting equipment, hiring individuals from local companies when working abroad and ensuring streaming capabilities are right for hybrid/virtual events.
Jeremy treats each production with the same love and care he does for his own family (which, isn't hard since his wife Vanessa is an event planner who he met while managing an event.) An avid enthusiast of the New York Times crossword puzzle, he often finds himself using the same skills he does to break down clues and figure out what works best for each individual client. "Someone told me this long ago, don't always take the clue for what it's worth," Jeremy says. "It's just like working with clients: Your first instinct may tell you the answer is this but once you begin working, they give you insights that help you to figure everything out."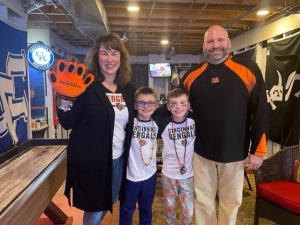 Jeremy loves being a part of the MAC Productions team – but that almost ended back in 2005. After becoming engaged to his now wife, Vanessa, he needed to move to Chicago to be closer to her. After breaking the news to MAC Productions' management, he was surprised when they asked him to come back the next day and offered him a remote position from the Windy City. "I worked from home well before it was a common thing," he jokes.
Because MAC Productions treats employees like family and his clients continue to be happy with his work, he plans to continue working for the organization, no matter where his travels take him.
"We've always had a great workspace, we've always had a lot of fun, even on job sites. We're still having a good time with a lot of camaraderie," he says. "At the end of the show, when everybody's done a great job and your clients are more than happy, you walk away thinking, 'Hey, maybe the last three years just for this one event paid off. It was well worth it.'"
---
Want more advice from MAC Productions? Follow us!
Ready to have us on your team? Contact us today.