Allow us to introduce the newest MAC Productions team member, Brian Rolston. This live event jack-of-all-trades joins us as our Director/Producer/Show Caller for live events.
Brian isn't an unfamiliar face if you've worked with us in the past. While he officially joined MAC Productions on September 15, 2021, he's been a freelancer with us for the past two years.
Fun fact about Brian; he got into the field of event production via his interest in theater productions.
"As a young child, my parents took me to see shows put on by our local theater troupe. I was mesmerized by the lights, costumes and scenery, and the way the audience connected with the story unfolding on stage. This led to a lifelong interest in bringing stories to life on screen, stage, and through experiences at events or trade shows," Brian said.
The rest is history!
"From nationally and internationally televised shows, large conventions, trade shows, streaming media, or meetings for a few hundred – a childhood fascination became a calling, and a career," he said.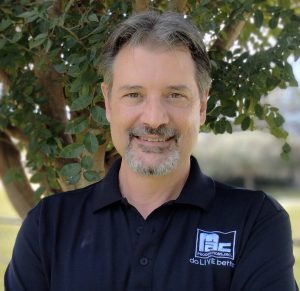 Before joining MAC Productions, Brian spent most of his career with Wendy's corporate where he was the director of Media and Event Production. While at Wendy's Brian produced large corporate events, live and on-demand webcasts and meetings for a few hundred to several thousand people.
"I have a firsthand understanding of the complexities and challenges meeting planners face. Plus, the reward of creating great experiences for attendees," Brian said.
His favorite part of working in the industry is the people and places. Working in events has allowed him to travel. Over the years, he has worked in several countries and spent a least one night in each of the lower 48 states!
"I've had the pleasure of meeting some great people – clients, presenters, performers, crew, and locals. One thing is for sure. Whether it's someone I'm working with, an Uber driver, or a patron at the local watering hole, we have more in common than what separates us," Brian said.
Brian said the team at MAC Productions is what sets us apart from other audio visual companies.
"MAC has a really wonderful and talented team focused on exceeding our clients' expectations," Brian said.
We're excited to have Brian on our team and showing our clients how we "We do LIVE better!"
At MAC Productions, we do LIVE better! We specialize in producing live corporate events by providing our clients with productions that are seamlessly integrated into your live event.
Contact us today to make your next live event your best one yet!