SO WHAT DO MEETING PLANNERS HAVE IN COMMON WITH VAN HALEN'S DAVID LEE ROTH?
Sound crazy? Well, lets break game theory down.
Meeting planners – you– go from venue to venue planning LIVE events. Correct! Well, Van Halen went from city to city planning legendary rock concerts. Right!
Meeting planners – such as you and David Lee Roth — had to plan and more importantly make sure their requests were met by the promoters and the venues. Of course, there are obvious differences such as fortune and fame, but when you break it down – planning a rock concert and a meeting are really one in the same.
So what does this have to do with game theory?
NO BROWN M&Ms – GAME THEORY
I am sure you have heard the story about the rock star who demanded that there be "NO BROWN M&Ms" on the snack table. Well, it turns out that diva-like rock star was Van Halen's very own David Lee Roth. As the story goes, David Lee Roth was closely involved in the staging and lighting design for the Van Halen tours. Being one of the biggest tours on record – planning was critical.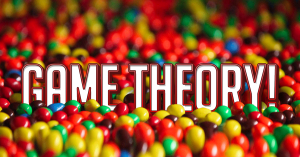 In the Eighties, Van Halen's show was considered to be one of the world's most challenging rock shows. Rivaled only by KISS, Van Halen was feared by stagehands and riggers everywhere. The concerts were immense and involved thousand of feet of hanging truss, hundreds of lights and literally miles and miles of dangerous cabling.
So great were the concert details that visually inspecting every component of the concert was impossible. Performing on stage with tons of hanging gear is a necessity, but it is also a matter of life or death. And so David Lee Roth needed to devise a way to help verify safety.
So David Lee Roth came up with a clever trick he inserted in the band's rider and it included the now-famous clause that stated – in all caps and underlined text — that a big bowl of M&Ms be at the catering table and "WARNING: ABSOLUTELY NO BROWN ONES."
David Lee Roth, in a 2012 interview, explained why the now mythical clause was inserted in the band's rider:
"The promoters frequently didn't read the contract rider and we (Van Halen) would have structural, physical issues because, hey, there wasn't the proper electricity, load bearing, stress, etc. If I came backstage, having been one of the architects of this lighting and staging design, and I saw brown M&M's on the catering table, then guaranteed the promoter had not read the contract rider and we had to do a serious line check because frequently we had danger issues."
Unsuspectingly, David Lee Roth was using what economists and behavior specialists call "game theory." Game theory is basically an applied strategy to assist in the decision-making process. It is a strategy or a planned detailed request that will allow the planner – meeting planners included — to better make a decision, find a solution, or in this case, quickly conclude if a vendor has properly read the rider or contract. In other words, it is a way to get people – in this case, vendors – to tell you something that they do NOT want to tell you.
Like, "Although I said I read your RFP, I really only half-read it, so consequently, I missed a number of key details that you requested…"
In essence, game theory is a way to elicit an unsuspecting confession. It is a method of finding the truth. For example, you might have a great proposal from a vendor. You accept the offer, but you have intentionally inserted a clause that either requests something not typically requested (no brown M&Ms) or requests something common, such as bottles of water or buckets of ice at every table.
So the next step is to show up at the venue. The truth, good or bad is easily revealed in the form of either missing water and no ice buckets, or if you're David Lee Roth – there ARE brown M&Ms! Like any good meeting planner, you now know the truth.
You should now do a complete check of the room and other details. Chances are, if such a simple request was not met then what about the more important details. Everything from the audio-visuals, to the Wi-fi, or the food must be further scrutinized and verified.
MAC Production's Mark Wagoner, V.P. Event Management, uses his own twist of game theory when planning large events for RE/MAX International, TOYOTA and Benefitfocus:
"We are a live event production company and we travel all over the country. So typically we are dealing with a new location and new venue. To insure that our instructions were followed, I always specifically request that small trash cans (No Brown M&Ms) be placed at every table in our audio-visual production area. So, when we arrive onsite and I do not see each individual trash can (Brown M&Ms) – I know immediately to go over every detail."
Now obviously many meeting planners are already doing this. However, you can devise game theory clues or details that will better serve your needs and assure that your event or meeting is run like a Van Halen rock concert.
---
Want more advice from MAC Productions? Follow us!
Ready to have us on your team? Contact us today.