Quality customer service creates clients that are committed to your company. 
That may sound like a tongue twister – and we don't recommend trying to say it three times fast – but it's true. At MAC Productions, we pride ourselves on not just listening to our clients' needs, but also using our creativity to surpass their expectations and create long-lasting, memorable events.  
Those are among the reasons April Heard said her company, Unlimited Systems, will never look to any other production company for their conference event needs.
A DECADE OF DETAIL
Unlimited Systems, a Cincinnati-based company that works to achieve peak financial performance for specialty healthcare companies, first began working with MAC Productions a decade ago. Unlimited Systems was set to host its annual conference – Directions.
At the time, MAC was the in-house audio-visual vendor at the Northern Kentucky Convention Center. The event took place over the course of two and a half days and brought hundreds of users together to see how the company's software can help both hospitals and private practices nationwide.
Heard, Unlimited Systems' Client Service Coordinator, said she knew that after working with MAC Productions for the first time, her company had found its go-to vendor for event production.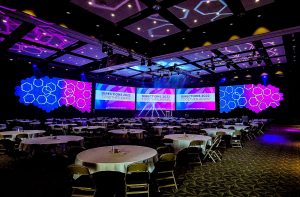 "We've decided never to venture away from them. They've always done a great job – everything always looks fantastic, so MAC is our number one go to," said Heard. "We give them an idea of what our theme is and then they come to us with their ideas. They always have a nice presentation for us and blow us out of the water with their creativity."
Part of that presentation, Heard said, includes collaborating on different aspects of an event's particulars. This includes simple things like videos and PowerPoint slides, to more complex aspects such as projection mapping software. Likewise, sound checks with presenters, lighting cues and related production aspects are rehearsed and refined well in advance of the event, allowing for the maximum impact possible.
Heard said there's more to the MAC experience. For example, MAC has incorporated "live trees, set up tents, fog and lifelike elements" to create a mountainous outdoor landscape in accordance with a particular year's theme. For another year's theme, MAC created clouds on the main stage to make it feel as if you were ascending into the clouds. 
"It almost takes your breath away (thinking) about how it all came to life," recalled Heard. "Our director says, 'This is the best one yet' every year and it keeps getting better every year because we continue to build." 
Similar impressions, Heard said, are left collectively in the minds of each event's attendees.
"Every year, I always see people go up to the stage to take pictures. I know that they send those back to others at their practice because they're just overwhelmed by how great the stage looks," she said. "Our guest speakers always say, 'Your stage looks flawless – we've never seen such a great stage design.' They always comment on how MAC is great to work with. They're very friendly, professional and kind, so not only do our users have a great experience but those who are presenting at our conference do also."
'THEY'RE JUST ON TOP OF IT'
Like all partnerships, MAC's longstanding association with Unlimited Systems was tested when the company found out the preferred site for its annual Directions conference switched event production vendors. 
"That was hard for us to hear," Heard said. Instead of leveraging the new company at the Northern Kentucky Convention Center, Unlimited Systems told the venue that it "needed to work with MAC Productions only." 
Asked why, her answer was simple and clear: MAC has the expertise and experience to deliver what her company wants, so why would they have a need to work with anyone else?
"In working with vendors, I always remember the customer service experience. With MAC, you feel in the know at all times and that's important because with some vendors, I'll send an email and won't hear back for a week or so," Heard said. "If it's crunch time, I need to know what's going on. MAC is never that way because they'll always give you a phone call or email right back – they're just on top of it."
At MAC Productions, we pride ourselves on exceeding client expectations and are happy to continue our work with Unlimited Systems for years to come. 
To learn more about how MAC Productions can make your next event exceed expectations, call (800) 347-2902 or contact us here. 

---
Want more advice from MAC Productions? Follow us!
Ready to have us on your team? Contact us today.